Mokoomba + ENGINE
Zimbabwe/Argentina/France
See Mokoomba and ENGINE:
Sunday, March 11th, at 7:30pm
at The Dirty Bourbon
9800 Montgomery Blvd NE
GET TICKETS
Enjoy two great bands from past ¡Globalquerque!'s as Zimbabwe meets Argentina on the Dirty Bourbon stage.
Meet Mokoomba—the hottest new blend of raw Afro-fusion energy that is setting dance floors ablaze throughout the world.
Mokoomba is a 6-piece band that plays a unique blend of Tonga and Luvale traditional rhythms fused with dashes of funk, ska and soukous. Hailing from Victoria Falls, Zimbabwe, the band has toured over 50 countries around the world.
The name Mokoomba stems from the deep respect that the Tonga people have for the Zambezi River and for the vibrant life that it brings to their music and culture. This exciting group certainly has a unique sound that is set to take the world music scene by storm!
ENGINE is a powerful musical and theatrical act, based on two dancing guitars and a harmonica overlapped by the raw blending of three actor-musicians' voices. The songs are a weave of Latin American rhythms, rich harmonies and rock dynamics, interspersed by simple yet powerful theatrical eruptions. The protagonists sing ceaselessly and dance scandalously, sometimes on stage and sometimes in the audience. ENGINE, the invisible machine, provides the concert's rhythm. People may wonder: how can just three people create such a sublime mess?
For over four years, Alejandro Tomás Rodriguez (Argentina) and Robin Gentien (France) have been traveling the world sharing various musical and theatrical performances. They have also been teaching, exposing themselves to a multiplicity of cultures and communities, and incorporating all their experiences into their art and craft. In 2016, they were joined by Pierre Lauth-Karson (France), creating the final cog in the ENGINE.
This is a TOURIST ENTRY performance and tickets are available here.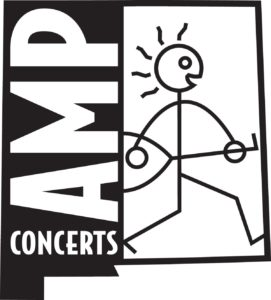 Presented in partnership with our incredible friends at AMP Concerts.