Festival in the Desert: The Tent Sessions
Film Screening and Q&A
See Festival in the Desert:
The Tent Sessions:
Saturday, March 24th at 1pm
at The Guild Cinema
3405 Central Ave NE
GET TICKETS
We are thrilled to have our friends Banning Eyre and Sean Barlow, producers of the NPR radio show Afropop Worldwide, in town to give a talk at the Albuquerque Museum in conjunction with the exhibit "Making Africa: A Continent of Contemporary Design." While they are here, they wanted to share a special film they made at the Festival in the Desert.  Sean and Banning will have a Question & Answer session after the film screening.
"Festival in the Desert: The Tent Sessions" is a remarkable time piece. Made by Sean and Banning in collaboration with LinkTV in 2003, it captures a hopeful moment in the north of Mali, a moment when it seemed that the unrest and violence that region had known for many years was at last over. The festival was a joyous coming together of Malians, mostly Tuareg who arrived by camel, deep in the desert outside Timbuktu. Among the small cadre of Westerners there was Robert Plant and his band, who played a set for an audience who hardly knew his work with Led Zeppelin. More importantly, it was the first time many people and musicians from the Malian capital Bamako had felt safe traveling this far north.
All of this is captured in the film, which includes main stage performances and interviews with Plant, Ali Farka Touré and others, and features informal sessions in the tents around the festival site. The film has to be contextualized because the events of 2012 and since have rendered this region close to a no-go area, and the festival has been driven into exile. It is a glimpse of what might have been and what may someday come again, but alas, no time soon.
This is a TOURIST ENTRY performance and tickets are available here.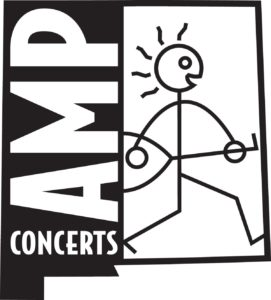 Presented in partnership with our incredible friends at AMP Concerts.