SINCE ITS INCEPTION, TRICKLOCK COMPANY HAS BEEN DEDICATED TO CREATING AND PRODUCING INNOVATIVE DEVISED THEATRE.
"The ensemble specializes in emotional, poetic, and intensely physical performances. The intimate rapport they've built up with each other over the years shows and is beautifully expressed by this talented group. No one is pushing the theatrical envelope like Tricklock. The Crown Jewel of the Albuquerque Arts Scene."
–Weekly Alibi, Albuquerque, New Mexico
---
Tricklock Company was founded in 1993. Originally known as Riverside Repertory Theatre, the company changed its name to Tricklock Company in 2001, under the leadership of Joe Peracchio. Since its inception, the company has been dedicated to creating and producing innovative devised theatre as well as working with both original and published scripts.
The artists of the Tricklock ensemble believe in the power of ongoing intensive artistic training, international collaboration and cultural exchange through theater, and in the capacity of the theater for bringing about positive personal change, inspiration and possibilities for a community. Tricklock is constantly seeking out other companies and masters with whom to collaborate. Several important mentors have markedly influenced the company's development. In 1996 and 1997, the company collaborated with Leonardo Shapiro (of New York's Shaliko Company), who directed the ensemble's first touring production of The Seagull, described by critics across the country as the company's breakthrough production.
Soon after, Tricklock began a series of ongoing exchanges and training with internationally renowned companies including Staniewski Center for Theatre Practices in Poland, double edge theatre of Massachusetts, Dell 'Arte Company of California and Anne Bogart's SITI Company. These connections led to creative exchanges and projects with artists from all over the world, including: Lee Worley of the Open Theatre, Bread and Puppet Theatre, writer/director Neil LaBute, Obie Award-winning playwrights Mac Wellman and Michael McClure, Evoe Performing Artists Andre Erlen and Mariana Sadowska of Germany and Ukraine, master mime Daniel Stein, Karen Hines of the Canadian clown duo Mump and Smoot and many more. Over the past decade Tricklock has toured extensively to Edinburgh, Belgrade, Koln, Prague, Budapest, Seattle, Baltimore, Los Angeles, Chicago and many cities across Canada and Poland. The company has also been the invited guest of Acco Theatre Festival in Israel, One Yellow Rabbit's High Performance Rodeo Festival in Calgary, the prestigious Prague Quadrennial Festival in the Czech Republic, and Ndere Centre in Kampala Uganda, among others.
In 2000 Tricklock was awarded the Artistic Pick of the Festival Award at the Seattle International Fringe Festival, and granted an extended run at the Tony Award-winning Seattle Repertory Theatre. In its hometown of Albuquerque, New Mexico, the company was awarded the Albuquerque Arts Alliance BRAVO Award for Excellence in Theater in 2003, and has been awarded the Weekly Alibi's award for Best Theatre Company many times since 2000.
In 2005 Tricklock became the first professional Theatre Company in Residence at the University of New Mexico College of Fine Arts and has taught courses and workshops in devised work and entering the industry and producing. In 2007 Tricklock was awarded the Lifetime Achievement Award by the Weekly Alibi for the company's dedication to creating and touring original live performance, creating innovative apprenticeship programs for teens and for its commitment to artistic and cultural exchange between New Mexico and the world.
The company members are dedicated to immersing themselves in the communities of their touring destinations, knowing that international creative exchange is a rare opportunity to enrich their own artistry. We aim to become a continuously more globally conscious ensemble. This perspective is at the core of Tricklock's mission today. In 1996, under the direction of Joe Peracchio, the company created of The Reptilian Lounge, Albuquerque's longest running late-night cabaret and underground community gathering. The Reptilian Lounge hosts performers of all disciplines, from all over the world, premiering their newest work.
In 1999, the company toured The Beard, by Michael McClure, which was produced in collaboration with the author, to fringe festivals in Seattle and Vancouver and the Off-Konfrontations festival in Poland; and was lauded as "Fascinating, hypnotic-****" (the Vancouver Sun). The Beard also made Albuquerque's Weekly Alibi's Top Ten List for 1999 and the best art and literature picks for the year.
In 2001, Tricklock Company created The Revolutions International Theatre Festival. With this annual 3-week festival of performance and exchange, Tricklock presents New Mexico audiences with the cutting edge theatre that company members see while on tour throughout the world. The first festival included both the Staniewski Center for Theatre Practices of Gardzienice and Dell 'Arte School for Physical Theatre of California, as well as Tricklock's original play, Gunpowder Mouth. Revolutions has grown in size and scope every year and has since featured companies from England, Poland, Ukraine, Czech Republic, Germany, Thailand, Mexico, Spain, Norway, Russia, Israel, Canada, Ireland, the United States, and South Africa.
In 2001, Tricklock's "mesmerizing" (Albuquerque Journal) production, In Between, captivated audiences locally, in Poland, Czech Republic in Hungary. "Tricklock's characteristic brand of absurdism and gravity is melded into an evening of dynamic physical storytelling" (Look Magazine, Budapest, Hungary). Love and Beauty-A Comic Massacre, also a Tricklock original, was a smash success on the Canadian fringe circuit in 2002, landing on many "Top Ten of the Fringe" lists in major newspapers and on CBC "Skillfully executed, often hilarious, and bloodthirsty fun. Each of these performers from New Mexico is a hybrid of mime artist, character actor, and clown." (The Toronto Star, Toronto, Ontario).
From 2001 to 2003, Tricklock Company created their original hit, The Glorious and Bloodthirsty Billy the Kid, the Greatest Serial Killer of Our Time. This stylized mix of song, acrobatics, magic, and social commentary had three local runs, toured internationally between 2004 and 2007, garnered rave reviews from Chicago to Los Angeles to Serbia, and received the "Spirit of the Fringe" award in Edinburgh, Scotland. The Chicago Tribune wrote, "Goofy, droll and physically unstoppable (Tricklock Company is) exceptionally talented…stellar work". The Los Angeles Times applauded the skill of the ensemble, writing "Tricklock Company members…lurk like triple threat rattlers ready to strike when least expected.…" In 2002, Tricklock launched the Manoa Project Ensemble Apprenticeship Program. Continuing to garner accolades and awards both locally and abroad, Tricklock was invited to bring their production of Sarah Kane's Crave to the prestigious Prague Quadrennial in 2003. The company also won the Albuquerque Arts Alliance Bravos Award for Excellence in Theatre. In 2004, Death's Door, by Tricklock's Kerry Morrigan, was invited to show at the Masrahhid Solo Festival in Acco, Israel, where it was the first ever American piece to play. In 2005, Juli Hendren's solo piece Rot was featured in the Top Ten Arts Events of the Year (Weekly Alibi) and toured to Seattle, WA followed by the creation and European tour of Black River Falling, heralded "Best Show of the Year-2007" (Weekly Alibi). In 2006, Tricklock Company became the professional Resident Theatre Company at the University of New Mexico, a partnership we have been privileged to maintain to today. In 2008, Tricklock was again awarded the Best of Burque "Best Theatre Performance Troupe." Between 2005 and 2008, the company inducted six more ensemble members and worked with a myriad of new collaborators, including Hermit Arts of Chicago, Witness Relocation Co. of New York, and Futur3 of Cologne. In 2009, Tricklock Company's original production of Catgut Strung Violin was awarded the "Best original play of the Ottawa Fringe Festival". Tricklock Company, with generous support from the Trust for Mutual Understanding, spent three weeks in Krakow, Poland, creating an original production in collaboration with Teatr Figur Krakow. The collaborative production of Nasze Miasto/Our City premiered in Revolutions International Theatre Festival 2010. Revolutions 2010 was followed by Juli Hendren's original one-woman show Waste Her "The first-most remarkable thing about Waste Her, then, is Juli Hendren. Her acting is chillingly powerful. A tour de force," (Weekly Alibi.) In 2010, Tricklock Company members embarked upon a very special project called Lullabies for My Father. Following extensive work with community members to collect stories about fathers, Lullabies premiered in May of 2011, and one week after the premier run, the Company took Lullabies on tour to Krakow, Poland and then to Belgrade, Serbia. Upon invitation from the DAH Theatre Center in Belgrade, Serbia, Tricklock Company opened their international theatre festival – The Passing the Flame Festival – with Lullabies. The summer of 2012 marked the 10th anniversary of Tricklock Company's Manoa Project. Three past alumni members of the Manoa Project wrote new scripts for a special performance celebration. Alumni performed alongside current students and Tricklock Company members in the momentous event. Also this year, we began our first season in our new performance space, the Tricklock Performance Laboratory, with Little Red, by company member Casey Mraz. One month afterward, we performed Instant Messages, a new work about modern communication, developed in collaboration with playwright Idris Goodwin as part of the International Symposium on Electronic Art (ISEA) in Albuquerque, New Mexico. The third show of this inaugural season in our new space was Finger Mouth, a new work developed by company members and addressing the delicate topic of hysteria diagnosis and treatment in women during the 19th century.
In 2013, Tricklock celebrated 20 years of continuous, ground-breaking theatre, producing a retrospective of Tricklock original work, including ROT, Love & Beauty, Black River Falling, Billy the Kid, and Catgut Strung Violin to sold out houses at our newly opened Tricklock Performance Laboratory, a 60 seat black box theatre in the heart of downtown Albuquerque. Tricklock also premiered The Menu, a performance piece based on the book of poetry by the same name written by long time Tricklock mentor Jim Linnell. Tricklock Company continued their dedication to international exchange by traveling to Uganda to research a new piece. The company was hosted by Ndere Troupe in Kampala and the company led workshops on devised theatre for over 100 young Ugandan artists over the course of several days. During this time, Tricklock's Executive Director Juli Hendren forged a strong bond with the Executive Director of Ndere Cultural Centre's Rwangyezi Stephen and they began to create The Nile Files, a New Mexico/Uganda ongoing collaboration based in art and community.
Tricklock continued the 20th season celebration into 2014 and capped the season off with a tour of Finger Mouth to Szcecin, Warsaw, and Krakow, Poland. The company ended the tour with a with a research trip to the Romani Villages of Czarna Góra and Szaflary in southern Poland to research Tricklock's newest work, Mother of Exiles, a piece about forced migration, immigration, land, home, and identity. 2014 also launched the annual Theatre on the Farm, a collaboration with our dear friend Duke City Rep featuring new plays performed outside at the beautiful Farm & Table restaurant.
The company leapt into 2015 with one of the biggest Revolutions festivals adding the 1st annual Theatre Without Borders/Revolutions symposium featuring panel discussions from prestigious theatre artists around the globe. Executive Director Juli Hendren was a part of a TCG delegation that traveled to Cuba for a cultural exchange trip. The company embarked on a cross collaborative, site specific, micro theatre production of The Keep, created and directed by Austrian artist Claudia Heu and featuring guest work from Donna Jewell and Adam Burnett. Tricklock produced a three-week run of the devised work Her Murder Ballad, a new work investigating women and violence based on Americana murder ballads, with guest writer Idris Goodwin.
2016 was a big year of international exchange starting with our 16th annual Revolutions festival featuring artists from Palestine, Colombia, and Poland. The company also traveled to Colombia to perform, teach, and scout for companies for the Revolutions Festival. While in Colombia, they solidified their relationship with acclaimed clown Lucho Guzman and the community performance space Tercer Acto as they continued their research, thanks to a Global Connections grant from TCG, on their piece Mother of Exiles. The company also toured Her Murder Ballad, Fingermouth, and The Reptilian Lounge to Poland and Ukraine where they also taught workshops for the community.
In 2017, under the direction of Juli Hendren, Tricklock company launched The Global Corridor which opens doors to cultural exchange by connecting people and humanizing world affairs through the art of theatre. The Global Corridor is comprised of several programs which utilize live theatre as a vehicle to explore and engage in diverse experiences and perspectives, creating a stronger global citizenship and healthier communities around the world. Elsa Menendez and Juli Hendren were part of a TCG/APAP delegation to Santiago, Chile for Santiago a Mil, a 10 day performing arts festival. The 2017 Revolutions Festival began with a longer residency with Ndere Troupe of Uganda as they traveled to Gallup for workshops and performances and to DEAP, Dził Ditł'ooí School of Empowerment, Action and Perseverance in Navajo for an exchange of art and conversation. Tricklock ended 2017 with the powerful and critically acclaimed hit Revolt. She Said. Revolt Again. written by Alice Birch.
In 2018, the company traveled again to Bogota, Colombia to recreate their piece Mother of Exiles with nine Colombian artists as well as artists from Poland, UK, and the United States. The company of artists restructured the piece to fit issues facing people in Colombia and South America around migration and home. The performance was open to the community and featured powerful public conversations. The year ended with a new collaboration Paderewski! Paderewski! Paderewski! written by Rachel Jendrzejewski of Minneapolis, directed by Emily Mendelsohn of New York, and commissioned by the Adam Mickiewicz Institute in Poland.
Tricklock Company continues its work amplifying voices from around the world, creating a safe space for young people, bringing stories by and about women to the stage, and supporting social practice through the arts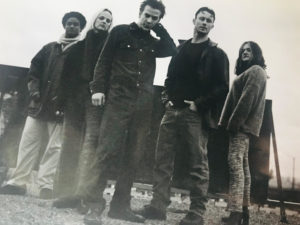 Founding members of Tricklock Company: Byron Laurie, Kerry Morrigan, Shenoah Allen, Joe Peracchio, and Juli Hendren.
Tricklock Company Founders
Tricklock Company was founded in 1993 as Riverside Repertory Theatre Company, under the Artistic Direction of acclaimed theatre director Michael Malek Najjar. Najjar's belief in the power of transformation through theatre lead him to gather his artistic allies, all recent graduates or current students in theatre at The University of New Mexico, to begin an Albuquerque based ensemble dedicated to training and creating in the art of theatre. In 1998, Joe Peracchio took over as Artistic Director and began the further investigation into devised theatre, physical storytelling, and the importance of international exchange through the arts. In 2001, Joe Peracchio, Kerry Morrigan, Juli Hendren, Shenoah Allen, and Byron Laurie changed the name to Tricklock Company, and the ensemble moved into the new millennia restructuring the mission and vision. Peracchio, along with long time Tricklock artist and teacher Elsa Menendez, lead the company until 2009 creating the Revolutions International Theatre Festival and The Manoa Project as well as many tours, classes, and performances. Under the leadership of Juli Hendren since 2011, the company has continued its focus on new work, theatre education, social practice, global exchange, and diplomacy through the arts. Now approaching its 26th year, Tricklock Company has had many members throughout the years who have contributed to the vision and success of Tricklock Company.
Tricklock is incredibly grateful to everyone who has been a part of this journey.