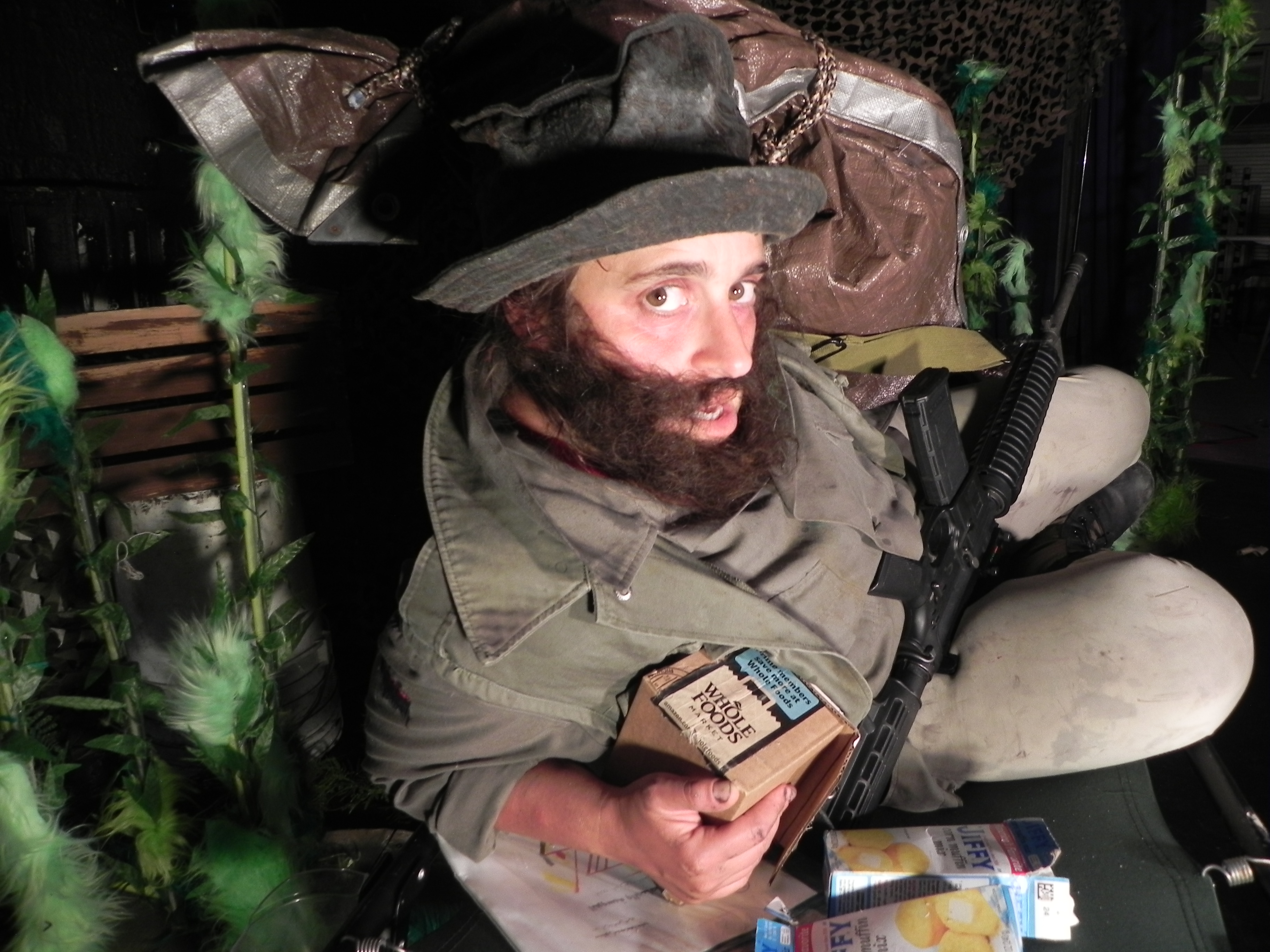 ---
All 100 Fires
written and performed by Donna Oblogata
---
One night only! On tour July from Philadelphia, sponsored by Meow Wolf.
July 20th at 8pm Tickets are $10 general and $5 students/seniors/artists
No reservations needed. Cash or card at the door.
Somewhere in a forest nearby, a lone guerrilla commander will ask you to prove yourself during a game of Pass the Sponge. If you fail at that, maybe you can help grind the sulfur.
Meanwhile, the Giant Ibis was thought to be extinct in Cambodia, though footage from a few years ago reveals that some still exist. That part of the story is true. Basically. But can you really believe a man who was brought up in the taxidermy trade? Join our hero, who actually is maybe a traitor, for the war we were born to fight.
Donna Oblongata returns after taking three years off from touring with a new solo show, All 100 Fires. The show stars a guerrilla commander and you, the new recruits. Birds flutter in and out, though mostly they are dead.
It's a funny play if you like being told that your best isn't good enough. It's a sad play if you were hoping for something more optimistic. It's an educational play if you want to learn how to make explosives.
Written & performed by Donna Oblongata
Production/puppet design by Patrick Costello
Directed by Francesca Montanile Lyons
Running time: 70 minutes.
NOT FOR CHILDREN. Ages 16+ only, please.
CONTENT WARNINGS:  Show features guns, suicide, scary noises and smoke effects. Disclose at your discretion.
"A visionary with a knack for creating experiences that transcend the norm...The scope of this production was unreal...a masterpiece." –Geekadelphia
"A welcome oasis of imagination...High-energy, funny, and surprisingly moving." –DC MetroArts
---
NO FIXED ADDRESS presents KAREN
---
No Fixed Address is a micro-theatre company founded by playwright Gregory S. Moss to develop and produce original scripts. Other goals include developing work by New Mexican playwrights; producing challenging and rarely-seen extant plays; and creating performance events designed to provoke new relationships and conversations in our community.
September 20th, 21st at 8pm and and 22nd at 6pm.
Inspired by pop-up shops, food trucks, and internal restaurant take-overs, No Fixed Address is intended to be itinerant, inexpensive and transitory. The company invites collaboration with local artists in multiple media, seeking to supersede boundaries that divide theatre companies and disciplines from each other. We are excited to inaugurate the company through our upcoming collaboration with Tricklock Company featuring the new play KAREN.
Karen, 40ish, unremarkable, a woman on her own, receives a mysterious phone call at work delivering the worst possible news: "You are in great danger. Your life up to this point has been a sham. Get out now, Karen, while you still can." Reluctantly, Karen flees her placid life into a night-long crisis full of vivid characters, strange coincidences and terrifying situations. In the end, Karen perseveres, finding herself freed and reborn into the second half of her life.
Karen
is a comedic, expressionistic, theatrical exploration of one woman's midlife crisis in a declining, chaotic world.
Performed by Katy Houska, Stephanie Grilo, Danielle Robertson, Amelia Ampuero, and Katie Farmin.
Runs 85 minutes.
Tickets available soon.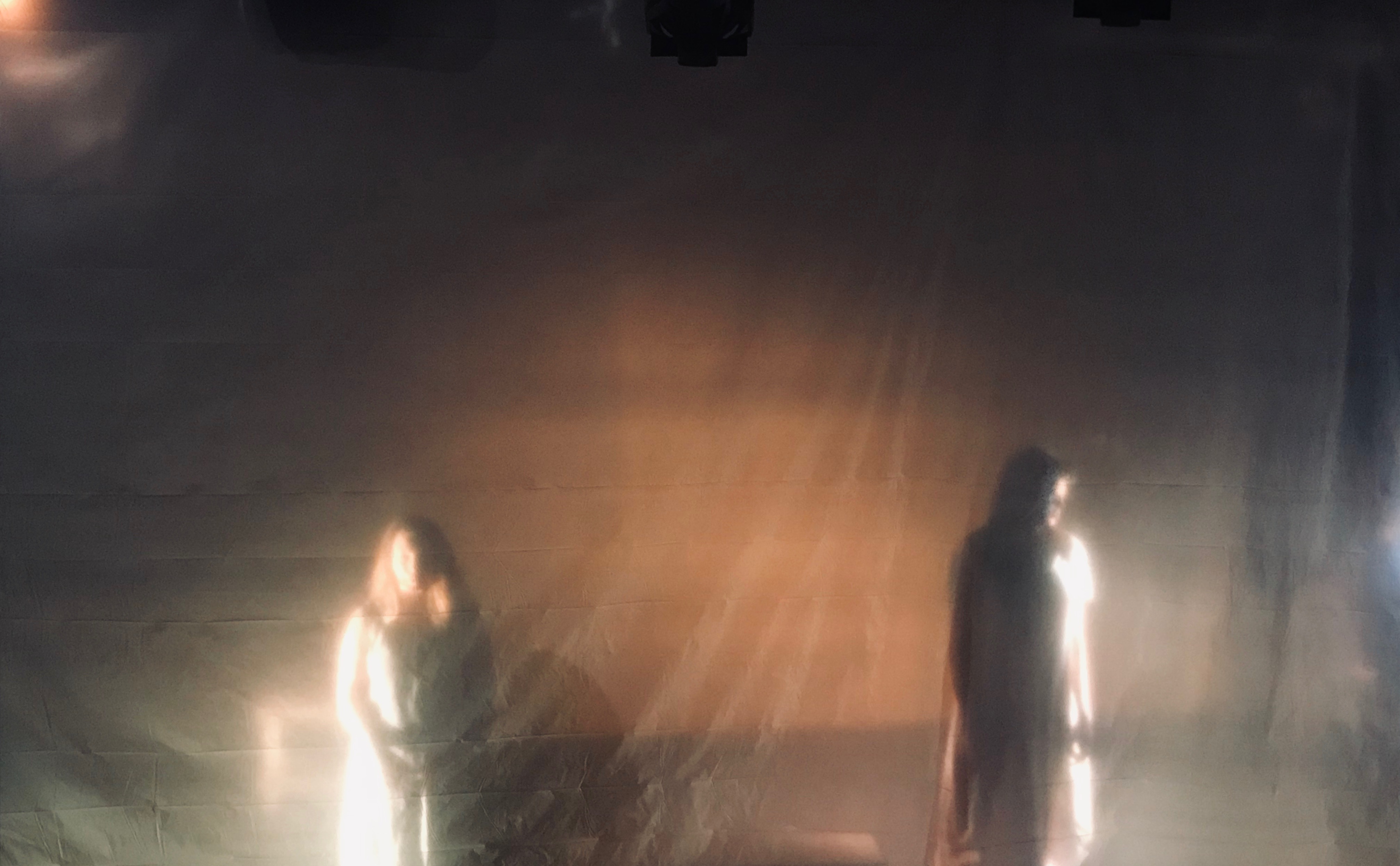 ---
---
A corporeal tapestry of memory, loss, connection, and love. Created and performed by Diana Delgado, Elsa Menendez, and Bryce Hample, directed by Juli Hendren.
More information coming soon!