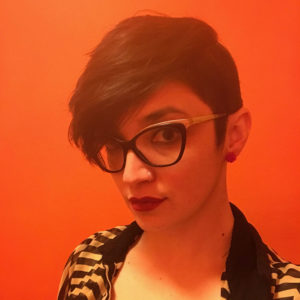 Laura J Hosek is a performer, writer, stage manager and Albuquerque native. She became an associate member of Tricklock Company in 2017, but has worked with Tricklock since 2009 in such productions as Love & Beauty, Decline and Fall, and spent many years as a Page Sister at The Reptilian Lounge. She can also be seen in Pulling Push Doors, a film by Tricklock Satellite Member Aaron Hendren. With almost a decade of festival experience under her belt, Laura is the box office manager for the Revolutions International Theatre Festival.

Before completing her theatre coursework at the University of New Mexico, she twice attended the ATEC theatre festival in Beijing, China as both a stage manager and performer with productions by Mac Wellman and Len Jenkins.
When Laura is not around the theatre, you can see her at a local brewery with her beloved pugs.