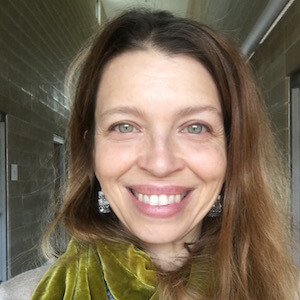 Elsa Menéndez is a writer, director, producer and performer with Tricklock Company (since 2001).  She is the Director of Performing Arts at the National Hispanic Cultural Center. She has spent more than 35 years working in theatre around the world, including teaching acting, clowning and circus skills in Connecticut at Oddfellows Playhouse Youth Theatre (where she served as program manager and associate artistic director); teaching children's theatre in England and Norway; serving as an associate producer in London for BBC movie shorts; and teaching, writing, and directing in a men's medium security prison which lead to the co-founding of BOOM!theatre, a theatre company within the prison comprised of individuals serving the longest sentences.
Menéndez trained at Boston University School for the Arts, Smith College and the University of New Mexico as well as with Bread and Puppet Theater in Glover, Vermont and the May Hill Puppet Theatre near Gloucester, England. She has studied with Daniel Stein of Dell'Arte, the Gardzienice Centre for Theatre Practices of Poland, Mariana Sadowska of EVOE, Myra Platt of Book It! Theatre in Seattle, and John Turner of Mump and Smoot, among others. Menéndez has written and performed in many original shows, including her solo shows The Last 3 minutes Of Happiness (2004) and Cloud Cover or Conversations with Harry(2011).  Elsa roles in original productions of Tricklock Company, include: co-creator and assistant director for The Glorious and Bloodthirsty Billy the Kid – The Greatest Serial Killer of Our Time! A Wild West Show and Cabaret (2005), director and dramaturge for Juli Hendren's solo show Rot (2006), creator, performer in Black River Falling (2007), writer and director of Catgut Strung Violin (which toured the Canadian Fringe in June 2009 to critical acclaim) and dramaturge on Juli Hendren's Waste Her. Other roles include "Stella" in Tricklock's adaptation Vessels by Kevin R. Elder based on A Streetcar Named Desire, and "Peg Leg Peg" in Billy the Kid.  She directed the world premiere of The Menu – an adaptation of a book of poetry of Jim Linnell (2013).  Recent original and adapted works include The Keep, Her Murder Ballad, and The Mirror Project.  She is currently working on a new solo show, Shipwreck, and international collaboration,The Mother of Exiles.
Menéndez served as associate artistic director and co-artistic director of Tricklock Company from 2004-2009. She founded and directs the annual NHCC Summer Youth Institutes Circo Latino and Circo Radical. Elsa served for five years as a producer for UNM's Words Afire! New Play Festival, and now works as a producer of the Revolutions International Theatre Festival and the Revolutions/Theatre Without Borders Symposium.   Elsa is a Co-facilitator for the Cultivating Women's Leadership (Bioneers Everywoman's Leadership Program) retreat in Ocamora, New Mexico each July.